About Us
E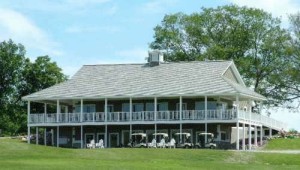 stablished in 1925, "The Lake" began as a nine hole golf course. In the mid 1990's the course was expanded to 18 and measures 6200 yards. Given the elevation changes throughout the course, it may play closer to 6600 yards. If you were to play today, you would experience playing the first 4 holes of the original nine hole design – a reminiscent walk for our senior members and guests. Approaching the 5th tee you begin playing some of the "newer" holes and start to experience the larger more undulating greens as well as the scenery. Numbers 5, 6, 7 and 8, all part of the new nine, start to really show off the new layout and directs you through a small valley, with hills to either side. Nothing beats the explosive colors that can be seen as you glance toward the hills on the right of 5 and 6 in the fall! Finishing off on number 9 a modest par 5 of fewer than 500 yards, this hole is from the original nine and tests your shot making as an eagle can be had by the lower handicapper.
The back nine really showcases the beauty which is Vermont.
Heading to number 10, our longest hole at 530 yards, you can let out some shaft as your target area is well over 50 yards wide. (Just be wary of OB on the left!) Number 11 utilizes an elevation change for your second shot and be aware that the local knowledge is to stay below the hole – especially when the pin is up front! The 12th and 13th holes place a premium on driving and putting, and though they are not long in length, par is a good score. The par three 14th is short but dangerous and common wisdom dictates that you avoid the right! Next up is our signature hole – the 15th with views of our majestic clubhouse straight ahead as well as Lake St. Catherine and the Green Mountains. The view from here is truly breathtaking. Number 16, (although 160 yards from the whites and straight down hill), this hole can be very stingy when it comes to par. 17 is a slight dog leg right and the green is protected with four bunkers as you make your approach. Lastly, number 18 provides great challenge as it can play 500 yards from the blues and present uphill, downhill and side hill lies all the way to a dreaded, deep right side bunker that can truly test your bunker shot skills. "Birdie" is a very good score.
Cap off your great day at "The Lake" with a visit to our Fairways Grille for a beverage and some light fare. The deck of this 19th hole provides a great view of the course and the 9th and 18th greens – perfect for reviewing your round with family and friends and adding up to an enjoyable golf experience at Lake St. Catherine.